Fall 2019 Honor Garden Scholarship and Commonwealth Honors Program
Four Massasoit honors students, Maya Burgess, Yvonne Gorski, Alison Haidul, and Alexander Whitehead, were recently awarded with a $500 Honor Garden Scholarship for their exceptional grades and winning application essays. The Scholarship was established in 2013 to recognize outstanding academic achievement in the Commonwealth Honors Program at Massasoit, and in the years since, more than 30 students have been recipients.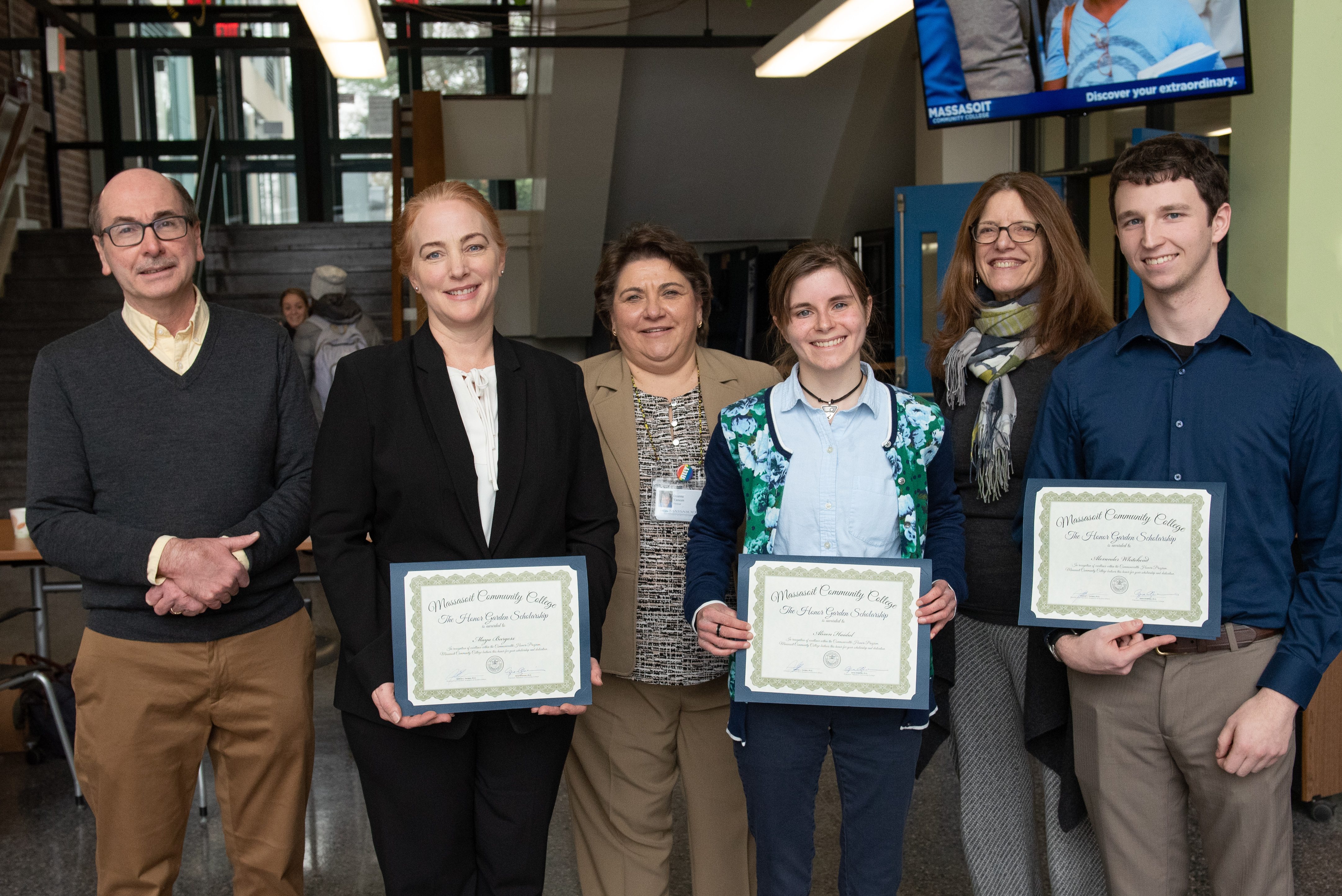 Maya Burgess is a Liberal Arts Transfer major. She moved to the Boston area in summer 2016 when her job relocated her and her two daughters from Edinburgh, Scotland. Maya is a nontraditional student who decided to return to school to get her bachelor's degree in political science. She decided to enroll in her first honors class in her second semester. Upon graduating in the spring, Maya intends to transfer to a four year university to study politics, and she plans to continue on to law school to fulfill her lifelong dream of becoming a lawyer.

Yvonne Gorski graduated from Marshfield High School in 2015 and utilized her gap years between high school and college to travel and work. At 22, she decided to begin her college career at Massasoit. During her first semester, Yvonne discovered her love for writing and planned to join the Commonwealth Honors Program. Currently, Yvonne is a full-time student, works full-time, and is a writing tutor in the Academic Resource Center. Yvonne is working towards a Business Administration Transfer associate degree, and upon her transfer to Bridgewater State University, she plans to earn a bachelor's degree in management.

Alison Haidul is a second-year student at Massasoit and is in her second semester as a member of the Commonwealth Honors Program. Alison has always had a passion for learning and researching, focusing on historical topics in particular. Upon graduation from Massasoit, she will attend a four-year university to earn a bachelor's degree in history. From there, she plans to enter graduate school and complete her PhD in the subject of history. Her career goal is to continue her study of the past and someday become a scholar and professor at a university in the field.
Alex Whitehead graduated from King Philip High School in 2015. After high school Alex joined the Navy, but due to an injury, he was not able to finish his service. After he was discharged Alex worked in the restaurant industry, but he left his management position and was convinced to try and enroll in college. In the fall of 2018, Alex enrolled at Massasoit and took to it greatly. This semester Alex is taking Professor Sanati's Honors Seminar and wrote his paper on the use of the military in foreign affairs. Alex will attend Bridgewater State University next fall and plans to get a degree in education.
In addition to the scholarship winners, dozens of Massasoit Commonwealth Honors students presented their project abstracts and trifolds during the honors seminars.
Brockton Students' Abstracts

Callie Adams
Overconsumption in America: Fast Fashion

Damila Assuncao
Reusable Design: From Waste to New Value Products

Geaonny Calderon-Hampton
Maternal Mortality

Kevin DeNicola
The Ethics of Openness in Computer Information Security

Hannah Gernhardt
Aquaculture: When Does it Help and When Does it Hurt?

Yvonne Gorski
Heteronormativity: An Invisible Toxin in Society

Cindy N. Mack
Transgender College Students Impacted by Mental Illness

Victoria Mansfield
The Ethics of Using Puberty Blockers and Cross-Sex Hormones as Treatment for Minors with Gender Dysphoria

Shannon Weir
Social Media and the Affect it has on Society

Alexander Whitehead
The Ethics of Modern U.S. Militarized Interventions

Kevin DeNicola
Self-inflicted Damnation: Depictions of Free Will in Renaissance Tragedies
Canton Students' Abstracts

Adedapo Azeez
The United States Foreign Aid Policy to Africa: Should the U.S.A Stop Giving Aid?

Maya Burgess
Reinstating Voting Rights for Ex-Felons

Jonathan DeNoyer
Morality of the Second Amendment and Gun Control

Jackie Gay
The Ethics of Learning Styles in the U.S. Education System

Alison Haidul
Revisiting History and Memories of Native Americans in the United States

Christopher Knight
Student Loans and Debt: A Major Financial Concern Across the United States

Hannah MacDonald
Moral Ethics of Comedy

Christina Pierre Toussaint
Disparities in Healthcare for Black Women

Nayfa Sarhan
Effects of Electronic Devices on Children

Chloe Tavernier
Poaching: An Aged Practice

Read the scholarship recipients' winning essays and the honors students' abstracts in the programs below.