50 Acts of Community Service

July 31, 2017 – In celebration of our 50th anniversary, the Massasoit college community undertook 50 acts of community service, one for every year of the College's existence. Thanks to all students, faculty, and staff who contributed their time.
In September, Massasoit welcomed students, faculty, and staff to kick-off Massasoit's 50th Anniversary Celebration. With the donation of $1 or more, participants received a free 50th anniversary t-shirt and a box lunch. On each campus, a group shot was taken. With over 630 attendees the event was a huge success, raising $2,561.08 for the Massasoit Community College Food Pantry.
n September, members of the Communications department joined thousands of volunteers across the country in the United Way Day of Caring. Along with volunteers from of the United Way of Greater Plymouth County, they helped to clean and paint the offices of Family and Community Resources of Brockton.
On December 3, Pattiann Daniels of the Institutional Research Department rallied the Massasoit community to participate in the Jingle Bell Run, a two mile run/walk to benefit The Enterprise Helping Hands Fund, which raises funds to support area charities.
The Veteran and Servicemember Club also donated to the Helping Hands Fund.
Each holiday season, the "Choices Angels" donate gifts and gift cards to students in the Choices program. Additionally, the Veteran and Servicemember Club also donated to the Choices program.
On December 14, current and former Massasoit faculty and staff partied the night away, reuniting with old friends, and celebrating the hard work they have done over the last fifty years. With the holiday season in full swing, attendees were asked to contribute school supplies to be donated to the Mary E. Baker Elementary School in Brockton. With an overwhelming response, more than 17 backpacks full of school supplies were collected. Representatives from the College presented the materials to the Baker School the week before Christmas.
Massasoit faculty, staff and students join together to collect greeting cards to benefit St. Jude Ranch for Children, which upcycles greeting cards into new ones, which it sells to help fund its programs and services for abused, neglected and homeless children, young adults, and families.
The Student Senate organized a day of holiday fun for children in the foster system. Students and children played games and had a visit from Santa.
Student Sheryl Royster joined the Missionary Society to help organize and put on a play to entertain those who are serviced by their food pantry.
·The Veteran's Giving Tree, sponsored by the Office of Student Life, is an effort to collect and send holiday gifts to veterans at the Brockton VA Hospital. Through the college's generosity, the Veterans and Servicemember Club was able to deliver 140 gifts to the Brockton VA.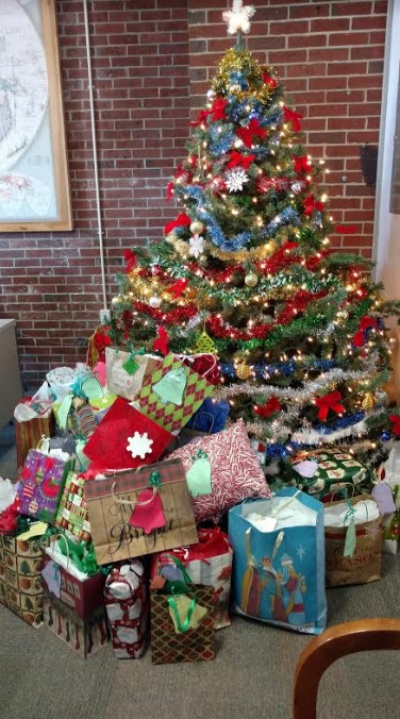 ·
During the month of December, the Women's Resource Center sponsored the David Jon Louison Center and Family Center of Brockton as part of their Season of Giving luncheon. The DJL Center is a non-profit foundation that assists families through the crisis of homelessness while providing services that promote a successful transition toward self-sufficiency. The Center currently houses 24 families and provides additional support to families living in local motels. The Women's Resource Center collected Christmas gifts for children at the DJL Center, and together the College provided gifts for 34 families in need.
In November, Phi Theta Kappa joined together with the Veteran and Servicemember Club to participate in the 22 Pushup Challenge to bring awareness to veteran suicide prevention.
Members of the Dental Assisting Club volunteered their time throughout the fall semester to assist local dentists with dental exams of elderly patients. Members cleaned and polished dentures, and performed oral exams and cancer screenings. The Elder Dental program allows seniors to access quality dental care at an affordable rate.
Anne Collins from the Student Life office worked with Friends of Bridgewater-Raynham Athletics to co-direct a group of senior high school boys in an annual Mr. BR show. This year the show consisted of 23 senior boy contestants and 49 senior girl escorts. The students competed in a three competitions: fun wear, talent, and formal. The contestants performed a group dance and the girls performed their own dance. With an audience of over 800 people and a sold out show, this is the high school's most successful event. The Mr. BR show raises around $8,000 to help fund high school athletes.
Several clothing drives were organized throughout the year. Participants included:
Phi Theta Kappa

Collected female coats for veterans in partnership with the Women's Resource Center. The coats were delivered to the Bridgewater VFW and given to homeless female veterans.

The Environmental League of Massasoit

Partnered with Anton's Cleaners to collect coats for kids. The club set up collection boxes throughout campus and delivered them to Anton's Cleaners bi-weekly. Anton's cleaned and distributed 100 coats to children in need.

Nursing Club, Class of 2018

Collected hats and gloves for the Giving Tree Program. They collected gloves, mittens, and hats sizes 5T to 14/16. The students at the Manthala George School in Brockton benefitted from the help of the nursing club.

Faculty, staff and students provided more than fifty people with winter outerwear. The winter outerwear free-cycle event collects donations of clean, gently-used adult winter outerwear and displays the donated items in a pop-up shop in the Upper Student Lounge. Items are free for those in needs. Massasoit staff and student volunteers – including the Gender Sexuality Alliance – collected, sorted and displayed the donated items and were able to assist shoppers on the day of the event.
Dress for Success provided students with more than 600 options for professional dress clothing, helping them prepare for interviews and careers. Any items that were not used by students were donated to Father Bill's & MainSpring.
The Environmental League of Massasoit assisted with cleaning up a community garden in East Bridgewater to prepare the site for the fall and winter. After they completed the work they were able to coordinate a nature walk, led by Michael Bankson of the Science & Math department.
·The Student Government Association and Phi Theta Kappa partnered to run the semiannual blood drive. Each year they are able to save hundreds of lives with the blood donations they receive; each donation of blood can help save three people's lives.
·Students in the Elementary Education program prepared activities and read "The Bear Ate Your Sandwich" to children in the Massasoit Children's Center. Each of the children were given their own copy of the book to encourage family literacy and to start their own personal libraries.
Assistant Professor Henry DiCarlo serves as Chair of the Board of Trustees at the Abington Public Library. He was instrumental in building the town's new library, helping to drive grant funding and voter support.
·Professor Melissa Winchell serves on the Special Education Parent Advisory Council (SEPAC) in West Bridgewater. SEPAC advises the student council on issues related to special education and provides educational support to other parents about special education. As the chair, Melissa organizes events including guest speakers and Mom's Night Out. Melissa also serves on the school council of the Rose L. MacDonald Elementary School in West Bridgewater.
In addition to her work with the elementary school, Melissa created Creedon's Meal Mob after meeting a mom at the Easton Children's Museum; the other woman's son was chronically ill like Melissa's daughter. Both of their children spend a lot of time in hospitals. In November, when the Creedon's son was hospitalized, Melissa created a Facebook group and invited her friends to organize meal planning; through her planning, the family received meals twice a week.
·Professor Aviva Rich-Shea works alongside the Department of Children and Families to conduct foster care reviews, which required extensive preparation and training training through DCF.  As an objective volunteer, she works to keep children and families associated with DCF safe and healthy.
She also volunteers her time with Horizons for Homeless Children. Aviva runs a weekly playgroup for children at the David J. Louison House in Brockton. Horizons for Homeless Children provides early education, playtime and family support systems for homeless children in Massachusetts.
·The Massasoit Food Pantry is a critical resource for our college community. Across our three locations, our faculty, staff, and students have generously given to the food pantry throughout the year.
The Massasoit Food Bowl is a an annual six-week competition to see which team can donate the most food for the Massasoit Food Pantry. The Food Bowl is a fun way to help students in need by challenging faculty and staff to donate featured foods each week. With strong efforts from the college community, 2,838 items were collected for the food pantry.
The following College organizations also coordinated food drives this year:

International Touch Club
Radiology Class of 2018
Nursing Club of 2017

57 nursing students donated canned goods and supplies
The Feeding 50 Families initiative provided more than 75 meals to families in the college's surrounding service areas. 
Linda Ross, Massasoit's Director of Food Services, volunteers her time with Messiah Baptist Church to help kids get involved with Bible study, including a weekly community dinner and various class activities.
Jen Hohl donated her time to the St. John's Food Pantry, cooking a Thanksgiving meal for those in need.
Maria Miranda of the Registrar's office works with the Key for Hope Foundation, which collects and recycles keys to help end hunger. Millions of keys each year become obsolete and are then lost and thrown away – Key for Hope recycles those keys and uses the funds raised to directly support food pantries and other organizations committed to addressing poverty and hunger.
The Veterans and Servicemember Club served a warm meal to around 50 patients at the Brockton VA Hospital.
The Veterans and Servicemember club held a bake sale with all proceeds going to the Home Base Program, which is a partnership of the Red Sox Foundation and Massachusetts General Hospital to help post-9/11 service members, veterans and their families.
·The Social Action Club worked with School on Wheels of MA to collect school supplies for students in need. The Club set up school supply drop off locations across the Brockton campus.
They  also raised money to combat homelessness during the Outrunning Homelessness Race/Walk at Borderland State Park. The Outrunning Homelessness Race and Fun Walk is an annual 5K and 2.6 mile walk held in April.
·Student Senators volunteered to be dunked in the dunk tank during the spring cookout. Students were charged $1 for three throws; proceeds were donated to Father Bills & MainSpring, which provides shelter and meals for individuals experiencing homelessness.
Student Dudley Oscar joined the Avon Baptist Church Youth Group after moving to the US. He quickly became involved in soup kitchens, animal shelters, and working with local food pantries. He was able to put his technology skills to use by producing presentations and ensuring smooth integration of technology during church services.
·Marisol Chase, former Massasoit student and part-time employee in College Communications, participated in the Weymouth Relay for Life on Saturday, June 17 to help raise money to fund cancer research, patient care programs, and education and prevention programs to help save lives.
Additionally, she assisted in the renovation of a trail leading to the Emory Estate in Weymouth as part of an Eagle Scout project. She helped to clear brush, branches, and leaves to reveal a once historical trail to a Weymouth landmark, and lined the path with gravel.
·We're proud of the good works that our students, faculty, and staff have done over the last year, and continue to do as we close out our 50th anniversary celebration. We have done our best to capture all acts of community service undertaken this year, and we know this isn't necessarily a comprehensive list. If we missed your act of community service, please email communications@massasoit.mass.edu and we'll get it added in.