Massasoit and Rockland Trust's Book Donation Lends Knowledge of Civil Rights Movement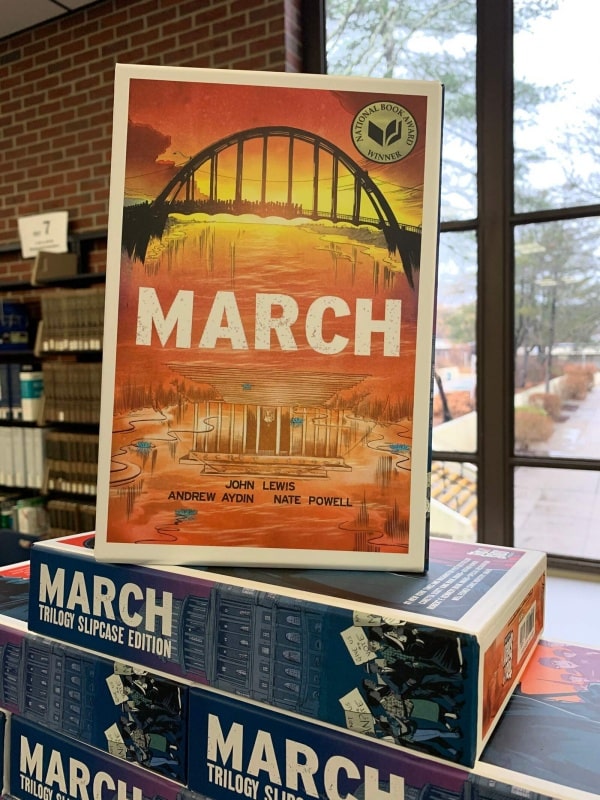 Nov. 25, 2019 – Brockton – As part of its annual One Book, One Community programming, the Massasoit Community College library is donating 140 sets of the March trilogy to partners including Brockton High School, Blue Hills Regional Technical School, New Heights Charter School, Brockton Public Library, and the Abington Public Library. A $2,500 grant from Rockland Trust to the One Book, One Community program spurred the donation, and the Massasoit library matched the gift with its own funds to ensure that the message of March could extend far beyond Massasoit's campuses.

"Our One Book, One Community events have always been open to the public, but this year we really wanted to leave something permanent behind that students and people of all ages can continue to learn from," said Rachel Zyirek, reference & information literacy librarian at Massasoit. "We're extremely pleased that Rockland Trust shares our views on spreading knowledge by providing new resources like the March series." 

March is a graphic novel about the Civil Rights Movement, told through the perspective of civil rights leader and U.S. Congressman John Lewis. The series is written by Lewis and Andrew Aydin, and illustrated and lettered by Nate Powell; it brings the lessons of history to vivid life for a new generation, urgently relevant for today's world. March is also a #1 New York Times Bestseller.
"Brockton Public Library is excited to join Massasoit Community College library's One Book, One Community program this year, and we thank Rockland Trust and Massasoit for the generous book donation," said Paula Jones, head adult services librarian at Brockton Public Library. "The selection of March was an excellent choice that will encourage civil engagement."

Some of Massasoit's One Book, One Community events this year have focused on discussing March, while one featured a presentation by MassVote, which stressed the importance of voting and gave an overview of the U.S. Electoral College. Powell, the illustrator of March, will be visiting Massasoit on April 15 and 16, 2020 to give keynote lectures and sign copies of the book; these will be open to the entire community. Visit the Massasoit Library's website for a an up-to-date list of One Book, One Community events.

Massasoit library staff, representatives from Rockland Trust, and members of the schools and libraries that are receiving the donated books gathered at the Massasoit Library last week to celebrate and distribute the copies of March.
# # #