Commencement 2023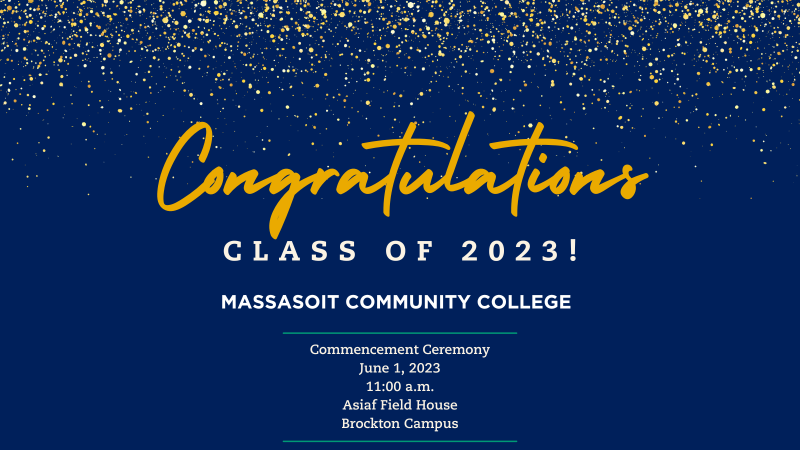 Check this page for ongoing information related to the College Commencement Ceremony, there will be more details to follow.
Commencement Ceremony
Thursday, June 1, 2023
11:00 am in the tent beside the Asiaf Field House, Brockton Campus
Information for Graduates
Mandatory Rehearsal for Graduates
Tuesday, May 30, 2023
Asiaf Field House (FH-Gym) and Tent
Alumni Reception (immediately following the rehearsal)
To be determined
Commencement Ceremony
Thursday, June 1, 2023
Graduate Check-In 9:30 a.m. (Asiaf Field House), ceremony begins at 11:00 am.
Special Note: Diplomas will be mailed to each graduate 2 – 4 weeks after Commencement.
ADA Disability-related Accommodations
ADA Disability-related Accommodations/Special Seating for graduates and/or guests should be made in advance by contacting the Dean of Students office at 508-588-9100 x 1402 as soon as possible.
COVID-19 Information
The Commencement Ceremony will take place outdoors under a tent. COVID-19 vaccinations will not be required for attendees (including graduates) who will remain outdoors, including the Commencement Tent. Wearing a mask is optional outdoors. All guests viewing the Commencement Ceremony in the Fine Arts building, and accessing any facilities indoors at Massasoit Community College, must adhere to the College's COVID-19 vaccination policy and indoor mask requirement. They should be prepared to show proof of vaccination. This policy is subject to change.
Please visit massasoit.edu/covid-info for more information.