Celebrate the achievements of the Class of 2023!
Congratulations, Class of 2023! It's been a long road, but you have finally reached the end and will soon be able to call yourselves graduates. We know your commencement day is a special one and we are committed to making sure you have all the details you need. On this webpage, you will find all the information related to commencement including cap and gown requirements, ticket information, and parking details. We wish you the best of luck on your special day and congratulations again!
Commencement Ceremony
Thursday, June 1, 2023
Graduate Check-In 9:30 a.m. (Asiaf Field House), ceremony begins at 11:00 am.
How guests can enjoy Commencement | Tickets and More
​​​​​​​Each Massasoit graduate will be eligible to receive up to four tickets for family and friends to join the audience under the commencement tent during the ceremony. Graduations tickets are now available for pick-up. Please visit Student Life in Brockton (SC1883A) Monday-Friday from 8:30am to 2pm with a photo ID. Please email studentlife@massasoit.edu if you need to make arrangements for pick-up outside of those hours. A lottery for extra tickets will be held immediately following the mandatory commencement rehearsal on May 30, 2023. Students must be present to participate in the lottery.
Additional guests without tickets are invited to watch the ceremony live in the College's Buckley performing Arts Center Theater, just steps away from the commencement tent. Additionally, the ceremony will be livestreamed on this webpage during the event.
Affinity Celebration Events
Massasoit invites our graduates and their families to celebrate their accomplishments, build fellowship and community with our affinity group recognition events. These celebrations do not replace the College's Commencement Ceremony held on June 1. These College-wide celebrations provide an opportunity for graduates to honor those who have helped them achieve their milestone while centering their identity, expression, culture, and values. All are welcome to attend.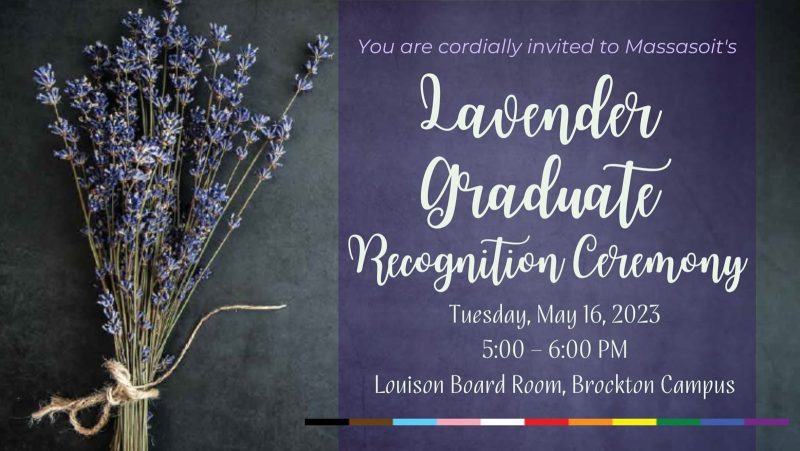 Lavender Graduate Recognition Ceremony
The Lavender Graduate Recognition Ceremony is an annual event conducted at many college campuses to honor LGBTQIA+ students and acknowledge their achievements and contributions in academia.
LGBTQIA+ members of the Class of 2023, as well as faculty, staff, and guests are welcome to RSVP by May 5, 2023.
Black Graduating Student Recognition Ceremony
Massasoit Community College and the Bay State Chapter of National Council on Black American Affairs (NCBAA) invites you to our first Black Graduating Student Recognition Ceremony 2023. This celebration recognizes our Black students (African-American, African, and Caribbean) who are graduating as part of Massasoit's Class of 2023.
Graduates, faculty/staff, family & friends are all welcome! RSVP by May 12, 2023.