Men's Soccer Tops CCRI For Region 21 Crown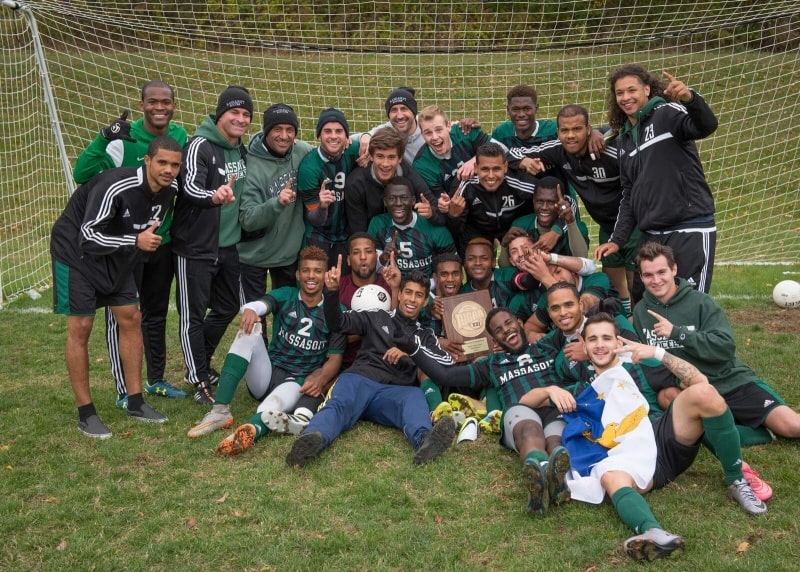 Oct. 31, 2016 – Deivys D'Almeida (New Bedford) scored two goals and assisted on another as the Massasoit men's soccer team defeated CCRI 3-1 to claim its ninth Region 21 Championship in the last 11 seasons under head coach Rui Estrela.
Massasoit (10-4-2) will play in the Northeast Districts, hosted by either ASA-New York or Monroe College from Nov. 4-5.
D'Almeida, who had not scored all season, jump started the Warriors offense when he headed home a cross from defender Nathan Estrela (Falmouth) just eight minutes into the contest.
But the game was far from over at that point as the Knights (4-9-1) played extremely well for the first 45 minutes of action. In the 31st minute, Cameron DiMaria scored for the equalizer, shifting the momentum back in favor of the home team.
"We were playing well at the beginning of the game but once we took the lead, I think some of the guys took a step back and took the game for granted," head coach Rui Estrela said. "Then we gave up that tough goal to (CCRI) and it was 1-1 that kind of took us out of our rhythm."
With the score still knotted at 1-1, Estrela tapped a short corner pass to midfielder Blake Brailsford (East Bridgewater). The freshman took the pass and booted a cross through the box, where D'Almeida was there again to finish, this time in the 39th minute.
Clinging to the one-goal lead after intermission, the Warriors began to pepper CCRI goalie Christian Ellerbe. After several scoring chances early on in the second half, Sidney Cardoso (Portugal) took a through ball pass from D'Almeida, who seemed to be Johnny on the Spot all day, for a much needed insurance goal in the 55th minute. Massasoit finished with 23 shots, 15 coming in the second half.
"I thought Deivys was our MVP today," Estrela said. "It was great that he scored those goals for us but more than that he was really helping control the midfield and playing physical. He was winning balls in the air, he was moving balls around the midfield, he was running back defensively. I thought today, he was our MVP with that performance and had a great game."
D'Almeida who had struggled through injuries all season and managed just three assists and no goals, was involved in all three goals in the Region 21 Championship victory.
Overall, Coach Estrela was pleased with the team's performance, but stressed that the Warriors will need to play a complete game to be successful in the districts next weekend.
"In the second half we played much better and we played with the type of intensity we need for all 90 minutes, not just a half," Estrela said. "We were moving the ball much better in the second half. We were moving the ball wide and attacking and putting a lot of pressure on CCRI. I thought we had a couple more chances and need to do a little better with our finishing. But, overall I am really excited for these guys and now we prepare for the districts next weekend."