First Gen @ Massasoit
Supporting First Generation College Students at Massasoit Community College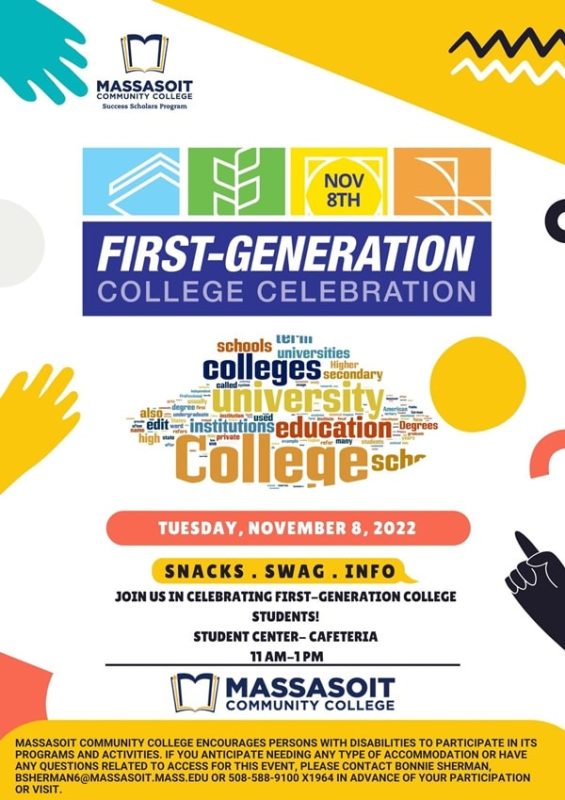 WHO Is First Gen?
A First Generation College Student is anyone who identifies themselves as the first in their family to obtain a post-secondary education.  Massasoit Community College has a long history of supporting First Gen students in achieving their academic goals
WHAT Services are available for First Gen students?
Massasoit has many services available to assist all students throughout their education
Basic Needs Security
The Center for Basic Needs Security provides resources for students, faculty, and community members. At Massasoit Community College we learn as whole people. To learn effectively you must have basic security: a roof over your head, a safe place to sleep, enough food to eat. If you're having trouble with any of those things, please connect with us, and together we can make sure those needs, and many others, are met.
Hours of Operation

8:00 am – 5:00 pm Monday through Friday

General contact information 508-588-9100 x1402
The Pantry
For those times when you need a little more, The Pantry is a judgement-free space welcoming anyone with a Massasoit ID.
The Greater Boston Food Bank provides fresh food including: eggs, milk, canned goods, and nutritious frozen microwavable meals (including vegan meals). Personal care and hygiene items also available.
BAMSI & Whitman Counselling
The BAMSI Helpline offers connections to a number of social services in the area, to contact please call: 508-548-4357. Please mention that you are a Massasoit student when calling.
For students in need of counseling and/or mental health services Massasoit has partnered with Whitman Counselling. To contact Whitman Counselling please call: 781-447-6425 (then dial 0). Please mention that you are a Massasoit student when calling.
Academic Resource Center
The Academic Resource Center (The ARC) offers a full range of tutoring, advising and academic support services. Individual and small group tutoring sessions, and study skill support, are available for mathematics, science, accounting, and computer programming. The Academic Resource Center also houses The Writing Center, which provides tutoring for writing, reading, and language acquisition. Peer, paraprofessional and professional tutors work together to help students become effective, independent learners
The ARC offers both in-person and virtual tutoring services. To make appointments:
Use Navigate (located in the portal)
Contact the ARC
WHEN do we celebrate First Gen students at Massasoit?
We acknowledge and appreciate the successes of our First Generation students in our Massasoit community every day!  We will recognize the National First Generation Celebration Day on November 8th with free food, I AM FIRST GEN swag, and information.
Questions: Contact the Dean of Students Office – deanofstudents@massasoit.mass.edu